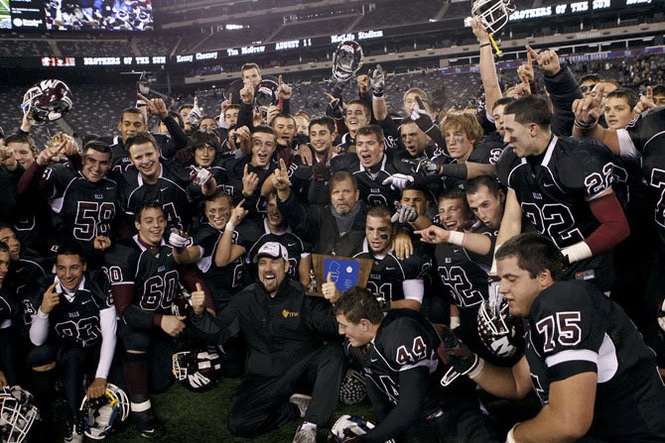 Coach,
If I asked you to name the top 20 basketball, football or baseball players of all time, I don't think you would have a problem quickly rattling off a comprehensive list.  Granted your list might not be the same as everyone else's, but I believe it wouldn't be too difficult for you to come up with a bunch of names in a short period of time.
But what if I asked you to name the top 20 coaches of all time?  Do you think you could come up with a list just as fast as you did for the athletes?  I don't. If you were lucky, maybe you might spit out a couple legendary names like Lombardi, Wooden, Gable, Jackson, Landry or Summit, but I am sure your pool of names would dry up pretty fast.   And if I asked you to name them according to sport, I bet your list would be even tougher to create.
And why did you select the names you did anyway?  Was it because their names are in the news or that their team won a recent championship?  
Well, regardless of how you selected the names, why is it that the list of great coaches seems so short?  One reason could be that while many athletes are born with attributes that made them great, a great coach requires much more than god-given skill.  Another could be perhaps that even though both the athlete and coach are ultimately there to succeed, a great coach is not there to garner recognition.  He or she instead takes pleasure in attaching victory solely the efforts of the athletes he or she coaches. Oftentimes athletes can be selfish, but a great coach, by definition, should not be.  As mentioned by Super Bowl MVP Phil Simms in the foreword of my new book Coach to Coach, the biggest and most overlooked reason that the greatest coaches are the ones you will never hear about is because these important men and women come along at a time in an athlete's life when the spotlight is not yet shining on them.  The most important coaches are the ones giving all they have to the younger, developing athletes. And the tragic truth is that they usually get less credit than anyone. Instead of seeking great paydays and acclaim, these men and women coach because they love both the experience and the responsibility of turning a young athlete into more than they dreamed they could be.  Great coaching is a passion, not a paycheck.
Everyone is a Coach
I wrote the book Coach to Coach because I believe everyone is a coach.  Whether you are a parent teaching your child to ride a bike or swing a bat or giving a co-worker confidence before a big presentation, we are all coaches for someone.  To be a great coach is not just about the X's and O's of a sport, it is also about the ability to bring more out of a person than they thought they were capable. A coach is there to inspire and instill confidence in his or her players in order to do his or her most important job: to believe in these players when they don't even believe in themselves.
For 8 years I was lucky to be part of an incredible team of great coaches.  Although you probably have never heard of them, these men helped to produce 8 NJ State Football titles, a 55-game winning streak and positively affected the lives of thousands of young men.  I have seen first-hand that these coaches are not inspired by a paycheck. In fact, if they were paid by the hour, they could have made more flipping burgers. They weren't driven by money. They were driven by the passion to coach.  
In my years working with the team, the final game of my last season was perhaps the toughest challenge I have experienced as a coach.  Our team had again advanced to the New Jersey state title game and would get to compete in front of thousands on the field at Giants Stadium.  We were playing a team that boasted one of the top quarterbacks in the country. Both of those two facts were enough to place tremendous pressure on a high school athlete.  The fact we would also be playing the final game without 9 members of our starting team made that pressure incomprehensible.  
We were not expected to win.  In fact, the game was not expected to be remotely close.  Unlike any situation I had ever been involved with, these young players' backs were against the wall under a tremendous amount of scrutiny and pressure.  Just five minutes before they were to leave the locker room, I was asked to say something to the kids. I knew I had to seize the opportunity to remind them that victory was not only possible, but probable.  The following is the video of that speech…
I did not show that speech to impress you, but to impress upon you that there are speeches like that going on every day in every sport at every school. There are great coaches out there making a difference daily.  And years later, athletes from that team still say the words I had for them have made an ongoing impact.  
We have all had both good and bad coaches.  The luckiest of us may have even had one that was great.  My question for you is, if you can agree that you are a coach, which coach do you want to be?
As you will learn from my book Coach to Coach and my Coaching Greatness programs on this website, I take the title "coach" very seriously.  Being called a coach carries a tremendous amount of responsibility that comes with the title. So many people are looking for guidance, motivation and someone to believe in them at a time when they believe in themselves the least.  The world needs more great coaches and it is my mission to do my part to help produce them.
The best coaches in the world aren't just the ones being paid millions at top professional and college teams.  They can also be helping a kid you will never hear of through a tough time or saying the right thing at the right time to a friend that needed to hear it.  Coaches are in the trenches everywhere and regardless of their Win/Loss record, they are in a position to make a difference. Check out Coach to Coach and I promise you will not only have a greater appreciation of what it means to be a coach, but also a roadmap of things you need to do to make an even more positive impact.
Oh, and by the way, the Wayne Hills team won that game 15-12.  And I believe it had a lot to do with coaching…