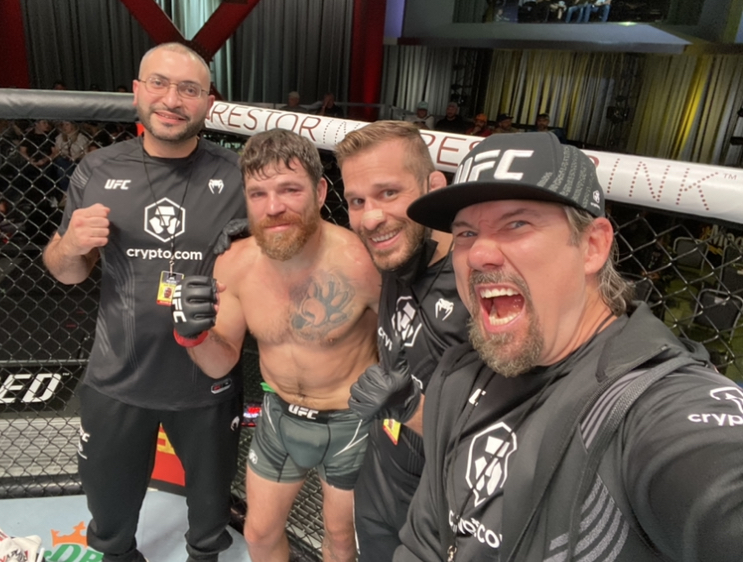 Hindsight really is 20/20.  Especially after 20 years.
This past weekend in Las Vegas, I cornered UFC fighter Jim Miller for his record-breaking 38th fight in the Octagon.  As I sat down in my office thinking what to write about the experience, I noticed something interesting about a trophy on my desk.
The fact that it was a UFC Fight of the Night trophy wasn't what made it interesting – instead it was the date engraved on the trophy – September 28th, 2001.
That day in Connecticut, Ricardo Almeida became the first UFC fighter I ever cornered to receive Fight of the Night honors.  He got the award and honored me as his coach by giving me the trophy.
On this past Saturday night, Jim Miller also won the award (the 13th time he has done it over his career!) almost 20 years to the day later.  Instead of a trophy, however, Jim won an additional $50,000!
Days can drag, but decades fly by.
The date on the trophy was what really surprised me. It's hard to believe over two decades have flown by since I've been coaching mixed martial arts fighters.  As I reflected on all the fights I've cornered in-between those two Fights of the Night, I realized a lot of things about the sport of MMA have changed.  Thinking about those last twenty years, I also recognized I've been lucky to have learned many of my most important coaching lessons. Those cage-side lessons have made me a better parent, person and coach.
To be asked to corner someone is one of the greatest honors, but accepting the role makes you responsible for one of the scariest jobs – to physically and mentally prepare a fighter and then stand cage-side while he or she goes to battle.
You have probably heard in order to be successful in life, you need to focus on what you can control and forget about what you can't.   Although that sounds easy in theory, that may be the most difficult job for a cornerman and coach to practice.  After spending months guiding a fighter for an event that will take a maximum of 15 minutes, when the cage-door closes, you realize those 15 minutes are the ones you cannot control. That slamming of the door on Saturday night again reminded me how scary it feels to be out of control.
It's not always if you win or lose, but how you play the "game."
During my years as a coach in MMA, I have cornered over 100 fights both big and small.  Regardless of the size or name of the event, they were all equally important to those fighters in the cage.
Few sports I have been involved with have produced the "highs of highs and lows of lows" like I have experienced in mixed martial arts. I have leapt in exhilaration from a victory and wept during a 16-hour plane flight home after a defeat.  I've openly carried the same fighter around the ring on my shoulders after a win, and held his hands while his face was stitched closed backstage after a loss. I've felt fearless and have been scared to death.  I've stayed in incredible hotels and cities around the world, but missed holidays at home with the family.  In the process of trying to help dismantle our enemies, I have built lifelong friends through finding my meaning in someone else's.
But through all the ups and downs, there were always coaching lessons to be learned.
Over those 20 years, I was also able to achieve my black belt in judo.  That belt is also something that sits on my desk as a constant reminder.  To me, the belt represents the fact that a black belt is not someone who hasn't made mistakes – it's the person who has made most of them – and just doesn't make them any more.  That belt sits on my desk to remind me that many of the coaching lessons I have to share came from my mistakes and losses.
The following are 20 coaching lessons I've learned over the last 20 years attempting to be a black belt coach.  Many of these lessons came not from big wins and fights-of-the-night, but from the biggest challenges and catastrophies.  Only now looking back, can I see their true value.
It's my hope that you can begin to apply these ideas to your coaching so you don't have to learn them the "hard way" like I did.  Then when you've reached your black belt level of coaching, it will be time to pass on your lessons too.
20 Coaching Lessons from 20 years of UFC 
1.  Accept responsibility.  You are there to fix the problems, not the blame.
2.  Criticize wisely. Focus on the process of the fight, not the personality of the fighter.
3.  Give praise.  Recognize the power of recognition makes what gets rewarded gets repeated.
4.  Have faith.  Believing in them more than they believe in themselves shortens the distance between now and then.
5.  Dream big.  Set expectations high by seeing them as they can't yet see themselves.
6.  Pursue improvement.  Don't seek ways to make them tired, seek methods to make them better.
7.  Make it about them.  Direct your enthusiasm in the their direction if you want to properly direct them.
8.  Give.  Never stop asking yourself, "What can I contribute here?"
9.  Serve.  Don't forget the four most powerful words of a coach: "How can I help?"
10.  Leave no stones unturned.  See if there really is any traffic on the extra mile.
11.  Keep things simple.  Never let the basics get boring or the fundamentals get less fun.
12.  Grow.  Invest in others, but never forget to also invest in yourself.
13.  Assess.  Be critical of your victories and let your losses be your biggest teachers how to win.
14.  Stay positive. Exude confidence, even when you don't have it.
15.  Constantly ask, "Why?"  Experiment with new things to make your past ideas pass the test, so your competition doesn't pass you by.
16.  Cheer them on.  You are their advocate, not their adversary. Act like their greatest fan.
17.  Be a serial optimist.  You have to first see the possibility before you form the plan.
18.  Get interested in them. Know your person's dreams and what most inspires them.
19.  Seek efficiency.  Remember your job is to figure out how to make their life easier, not harder.
20.  Stay curious.  Keep learning with the understanding there will always be more wonderful teachings that exist.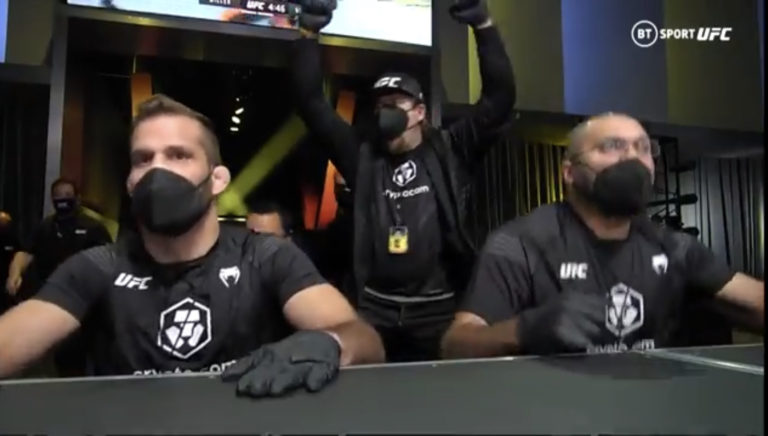 Now that you've read the list, I hope you recognize these lessons aren't just for fighters.  They are for anyone who is helping someone else fight the "battle called life."  So whether you're a coach, parent, boss, team leader or family member, I challenge you to give the items on this list a shot and see if your life doesn't improve as you improve the lives of others.
A coach's most sought after trophy is someone else's.
As I sat staring at the UFC trophy on my desk, I realized it isn't what I got.  The trophy is a symbol of what I have given.
That trophy validated what I was doing as a coach when everyone else didn't believe in me or the sport. Yes, instead of the $50,000 you get now, it's just a piece of glass.  But to me, that trophy is priceless and a reminder of perhaps the biggest lesson:  coaching is not something I've done to all my athletes over the years.  It's something I've done with them.
Throwing you a High Ten,
Martin
P.S. Want more coaching lessons?   Then it's time to finally read Coach to Coach and High Ten.
Would you like to be a better coach?  I promise you will benefit from the easy-to-read and entertaining stories within Coach to Coach and High Ten.  Thousands of coaches around the world have gotten the lessons within these two books.  Don't miss out!