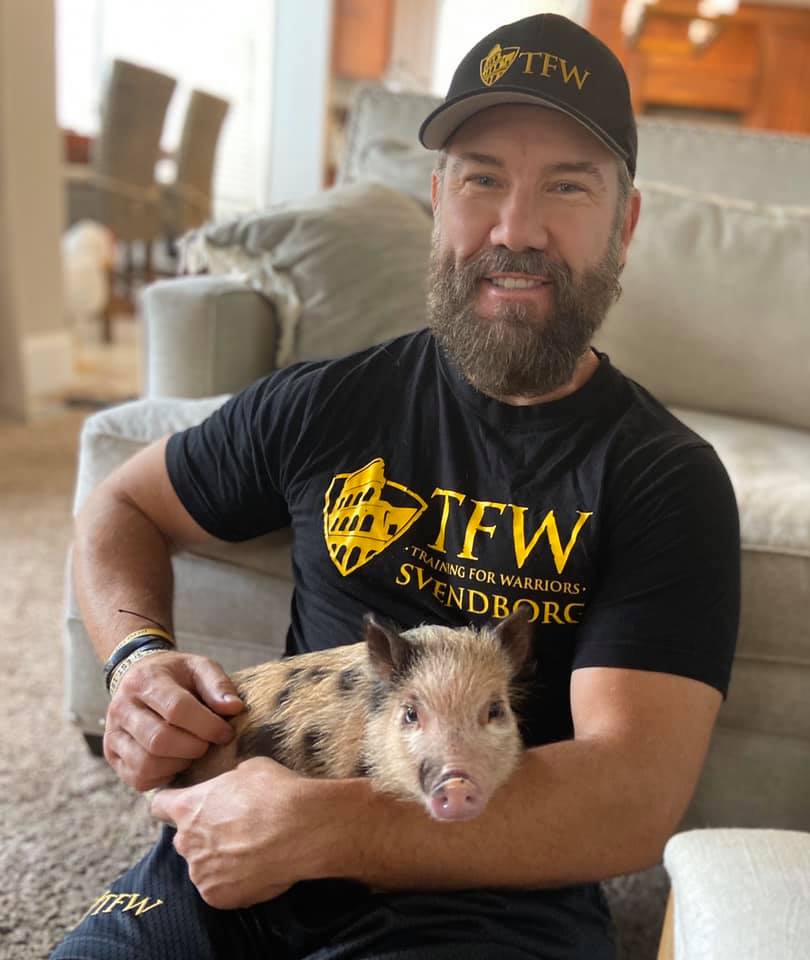 Hog Heaven: an extremely satisfying state or situation.
If you know about me, I am allergic to dogs. Unfortunately, I passed on that allergy to one of my daughters. As a result, I have never been able to have a puppy, or really know all the amazing bonding and experiences that come with owning a dog.
After years of lobbying unsuccessfully, I am proud to introduce the newest member of the Rooney Family, Miss Zuri, an American mini-pig.
Zuri was born 11 weeks ago in Missouri (hence the name which our 7-year-old, Sasha thought up!) Before we got her, my wife did a tremendous amount of research into breeders, the requirements to care for a pig and even got a "pig certification." Then when we selected the breeder, we had reserved a pig from a litter. My kids have watched videos of her growing up and last week, we drove on a family adventure through 4 U.S. States and almost 1500 miles round-trip to finally pick her up.
It was love at first sight. Because Zuri snuggled my oldest daughter Sofia's neck immediately, the breeder actually cried she was so happy to see the pig going to a caring family.
At this tough time of stress and anxiety, she has really brought this family some much needed joy. Zuri is happy at our house and loves to cuddle. In particular, since I have been essentially house-bound for the last 17 weeks, she has reminded me of my love for coaching.  While I am getting notorious for sneaking her broccoli, carrots and butternut squash during our training sessions, she has been sneaking me a number of coaching lessons in return.
"WHEN PIG'S FLY"
Now having been "coaching" Zuri for a little over a week, she continues to impress me and is performing skills I would have not previously thought possible.
That brings me to the statement above. "When pigs fly" has been a sarcastic remark used since the 1600's to describe what someone believes to be impossible or an event that will never happen.
As a coach, this should not be a phrase you use with your students, athletes, co-workers or family. As I describe in my newest book, Coach to Coach, a great coach should be an eternal and serial optimist searching for what can happen, not highlighting what can't.  You will see in the following video, then the coach's job is to keep believing in them until their student does too.
You probably noticed two things from the video: Zuri's wagging tail and my enthusiasm for her training.  In both cases, you should learn that high energy will always help get results.  Sorry for the excitement, but a good coach should always try to encourage. After all, what gets rewarded gets repeated.
When training commenced with Zuri, we had to start at the beginning.  Although I have trained Olympic medalists, UFC champs and NFL stars, Zuri has reminded me of the pleasure of starting with a clean slate.  Coaching Zuri has been a real treat. Here are 10 universal coaching lessons from the week regardless if you are training pigs or people:
10 Universal Coaching Lessons From A Pig
1.  A good coach makes the basics FUN.
2.  When starting with new learners you have to MEET and MATCH the athlete where they are in terms of skill and ability.
3.  A good coach should be PATIENT and take the necessary time to get things right until they can't get it wrong.
4.  You have to instill a LOVE for the sport, and not use any aspect of it as punishment.
5.  A good coach will know if he or she did their job because they keep coming back wanting to "PLAY" some more.
6.  Coaching is built on TRUST.
You have to develop trust before any successful training can happen. Too many people skip this important step. Make the investment in your relationships and think of the long term.
7.  Once you have trust, RESULTS come with REPS.
Delayed gratification is the grandmother of getting reps done. Then those reps become the mother of a skill. So, want to help someone get ahead of the competition? Get them interested in putting in work over time.
8.  When you get the POSITIVE RESULT you want REWARD it.
All too often we listen to the negative thoughts instead of filling our minds and the hearts of others with positive messages. Instead of always saying "no" find the reasons for a big "YES!" When you see something you like, let them know about it with a "GOOD JOB!"
9.  Be their greatest CHEERLEADER.
Everyone needs some fans cheering them on. Performance will improve when you have people on your side who want you to succeed. A good cheerleader never gives up hope or faith.
10.  Never let them forget how much you CARE.
The world can be a scary place sometimes. No one needs to worry alone. Whether it is a pig's version of a high five, a note, text or card, showing you care leads back to #1 above and results in a virtuous coaching cycle of goodness.
I challenge you to use these 10 lessons today with your family, friends, and community. (Kisses on the nose only to be used when appropriate and accepted…)
Want some other great coaching lessons?
Check out my latest book, Coach to Coach.  Thousands around the world have already enjoyed it.  Even Zuri likes it!
Now at only 12 dollars on Amazon, if you read it already, it can make a great gift!
LINK TO GET YOUR SPECIAL PRICE
My biggest Coaching Lesson from Zuri: Effort, Encouragement and Enthusiasm will always produce Accomplishment.
I hope she has put a smile on your face and keep a lookout on my social media for more great tricks and videos.
Yours in Strength,
Martin
P.S. Don't miss out on a special sale on my Coaching Greatness online programs!
Get CG1 – The Lectures for just $175 – save $220
SAVE $220 on Coaching Greatness – The Lectures Here
Or save $300 and Get Lifetime access to both CG1 + CG2 combined (usually $595) for $295
SAVE $300 on Coaching Greatness -The Lectures and The Workshop Here