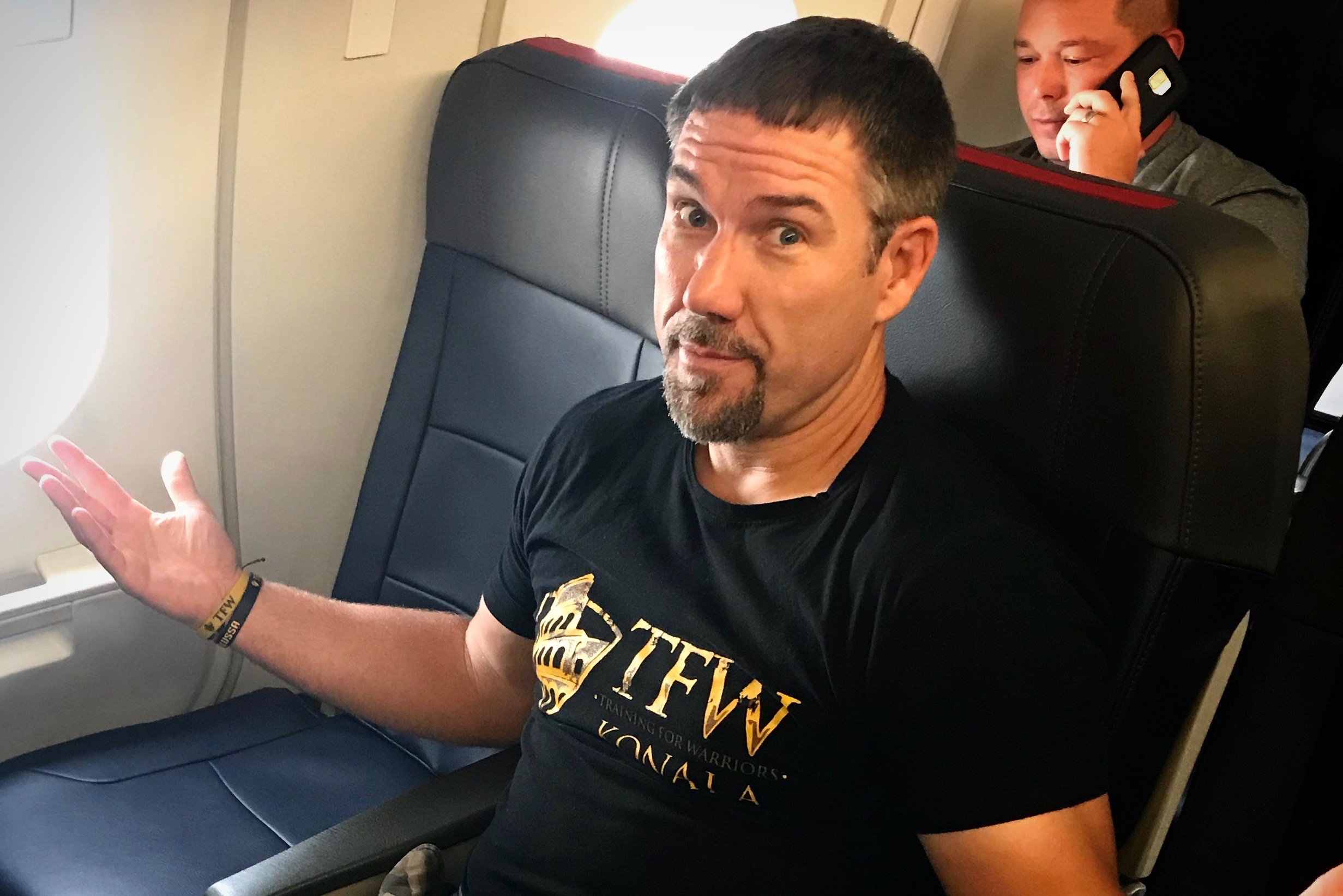 "Beware of distractions disguised as opportunities."
This past weekend, I traveled to San Francisco to present on the power of coaching.  In addition to the presenting, workouts and social media pics and videos, there was one thing you didn't see: the 5,000 miles of flying.  Now that the new year has started, I looked back on my 2019 and found I again logged over 100,000 miles in air travel.  That total consisted of over 80 different flights that took me to a number of different countries and allowed me to experience different languages, food and cultures.
After deeper reflection on 2019, although some of the new places I visited like Cyprus and Kuwait were unique, there was one thing I found to be constant at every one of the places I visited this year: War.
Now before you get the wrong idea, the war I saw waging had nothing to do with people's beliefs or differences.  And even though the weapons that were being used were often handheld, they were probably not what you would expect.
In fact, I would be so bold to say that if you are reading this, you are fighting in this same war too.  Actually, you are fighting it right now.
The war I am describing is the war for your attention.
Did you know the world is fighting for your attention?  Every day, the moment you turn on your phone or computer or TV, the battle begins.  And that battle isn't being fought against amateurs; you are waging war against some of the best and brightest minds in the world desperately trying to distract yours.  This war, as you may have experienced in the last year or two, often feels like a losing battle.
But before you think I am contributing to the problem, I want you to know I am on your side.  Today I will give you one math formula how to successfully fight and win this war.  With this formula, you can regain control of not only your attention, but also your life.  And I know it works because it worked for me.
If you are familiar with some of my personal philosophy, for a long time, I have been stating the most dangerous word in the English language is "busy."
After all my travels this year, however, the word "distracted" is now running a close second.
If you are like me, you are more distracted than ever.  If all the things going on in your life (work, family, hobbies) aren't enough, society has now added a layer of social and virtual distractions that are making you feel more busy, stressed and depressed than ever.
And why do we feel the stress?  Because we are spending our time on NUNI at the expense of the NUMI.  We keep being distracted by Non-Urgent Non-Important things that keep us from the Non-Urgent Most-Important things!
And how do I know?  Because I have fought on the front line of this war for the past few years too.  And even as this fight pushed me nearer to distress and depression, this battle only increased in intensity by asking for even more of my daily attention.
But there was one thing last year that helped me battle.  One thing that helped me fight against the stress and distraction that gave me back a sense of composure and control.
What was this magical device?
 

That one thing was a piano!

If you haven't heard (or been reading any of my emails!), I am releasing my new book Coach to Coach.  This book is the one that I had been talking about writing for years, but now I realize that unless we had gotten an electric piano for my third daughter this year, I don't think the book would have ever have happened.

Why hadn't I written my book?

I was distracted!

For the last few years I told anyone who would listen I was going to write a parable book about coaching.  I told my colleagues.  I told my friends.  I told my kids.  We would even discuss the characters and storylines.  In my head, I had it all planned out.  I even started taking notes and had an outline. I knew what I wanted to write and I knew the book would help improve people's lives.

So why couldn't I do it?

Because of the constant distraction!  I used to tell people that my ability to focus was my strongest asset.  And looking back, I was slowly losing both the war and control of my greatest strength.

Hours a day were being spent on things that were neither important or urgent.  Whatever "shiny object" or fire that needed to be put out that would pop up on my phone or computer screen would have me spending my day totally reactive.  Sometimes I would even forget why or what I was looking for in the first place.  And as a result, I just couldn't find the time or energy to get down to writing the book I knew I needed to share.  I was continually falling prey to the minefield of distractions that the war was laying out there for me.

And then my daughter gave her father a taste of his own medicine.

My kids have phones and computers too.  And as a result, they are also caught in the middle of the crossfire for attention.  And the problem is they are much younger than when I started serving in the battle.  So, my wife and I are trying our best to control screen times and websites visited in order to best keep our kids focused.  But even that has been more of a losing battle.

One day, in an effort to steal back her attention, I told my daughter she needed to practice the piano more.  We had gotten it for her and she really wasn't spending much time on it besides her weekly lesson.  And in comparison to the time she was spending on her phone, the piano was losing the fight.  But after my suggestion for more practice, she challenged me:
"Well, if I am going to play the piano instead of being on the phone, what are you going to do?"
I blurted out that every time she played the piano, I would write that book I was always talking about.  She didn't believe me.  This lack of belief both called me out and woke me up.  So we made a deal and shook on it.
As she sat down at the piano, I put away my phone, got out my computer and started writing.  And once I got my focus back, I just didn't stop!  Coach to Coach was completely finished not long afterward and I learned all it really took was a little inspiration and a math formula.
So, what is the Simplest Battle Tool I Can Give You? Addition by Subtraction!
Rooney Rule:
 

Sometimes you have to remove something little in order to gain something big.

In my case, I had to remove a number of distractions, and those had to do with predominantly my phone.  I just had to have the discipline to subtract this one distraction from my life and then writing the book became easy.

What did I do?

I made a schedule of the time I would write.

I kept the phone completely off for the hours I was writing.

I turned my email off on my computer for the hours I was writing too.

I stayed consistent and focused during the times I scheduled.

Without the distractions, I fought back and finally got my most important work done.
What are your biggest distractions?
How much time do those distractions really cost?
What or how can you subtract something to make a big addition to your life?
My suggestion is to make the list of your biggest distractions that are holding you back.  Next make a list of ways you can subtract those distractions.  To make things even easier for you to fight the war for your attention, here is my 5-step "Distraction Detox" program that can get your time consumption problem under control and you focused on the things that really count:
Your Distraction "Detox"
Step 1:
 

Recognize The Distraction

Before you can decide where you want to go, you have to know where you are.  And if you want to know what is currently holding you back from where you want to go, you have to identity the distractions that are stopping you.

Action Item:  Make a list of all the things that are leading to you wasting your time.
Step 2:
 

Just Say "No"

Simply recognizing the distraction is not enough.  Once you have identified how certain things are distracting you, you have to make the conscious decision to give them up.

Action Item:  Set a hard schedule for yourself in order to best avoid the distraction.
Step 3:
 

Get Rid Of The Distraction

For some distractions just saying, "No" won't be enough to stop them.  Your phone is designed to get you addicted and the same goes for other powerful distractors in your life.  So, just saying you won't look at social media may not be enough to get away for the time you need.

Action Item:  Lock away or remove the distraction for an allotted time per day.
Step 4:
 

Subtract The Distraction From Your Life

If #2 and #3 still don't work and your distraction is just too powerful, your last choice is to remove the distraction completely.  Will power may not be enough.  For instance, if I have peanuts in front of me, I can say I won't, but I will still eat them.  So how to I avoid eating too much? I JUST DON'T BUY THEM!  So, if your distraction is TV, cut your subscription. If it is social media, leave the platform.

Action Item:  Commit to completely remove the distraction from your life.
Step 5: Add Something Worthwhile To Fill The Space
Once you have found the successful way to remove your distraction, you have to make sure you don't fill this open space with other unproductive distractions.  Think about your big goals.  Use this free time to fight back and do something worthwhile.
Action Item: Make a list of the things you really want to do and do them.
What else do you need to subtract?
How did I write Coach to Coach?  In addition to removing distractions, I also subtracted my excuses.  I used to make excuses that I had to be on my phone and computer all the time because of my business. But I put my phone away.  And I put my excuses away too.  And then I was finally able to forget the small screen and see the big picture.
Have you read a good book in a while?  Or have you been distracted?  I hope you read Coach To Coach and agree that it was better than me scrolling through my phone or cleaning up my email inbox.  If nothing else I am sure you will agree it was worth paying a little attention.
Get Your Free Bonuses Here Worth $1,000's
After you read it, I hope the book itself inspires you to continue to fight the war for your attention and leads you to your next great work. I also hope you distract some other coaches and parents you know and share the lessons inside.  This book is not disguised.  It really is a good opportunity.
Yours in Strength,
Martin
P.S.  Want to hear these emails come to life?  Check out my INTO THE ROAR podcast for more inspiration.
Want to get "Coach to Coach" with me?  Join me on Facebook for my weekly show on Wednesday Night.
Want me to present for you and your team?  Check out how at www.coachinggreatness.com