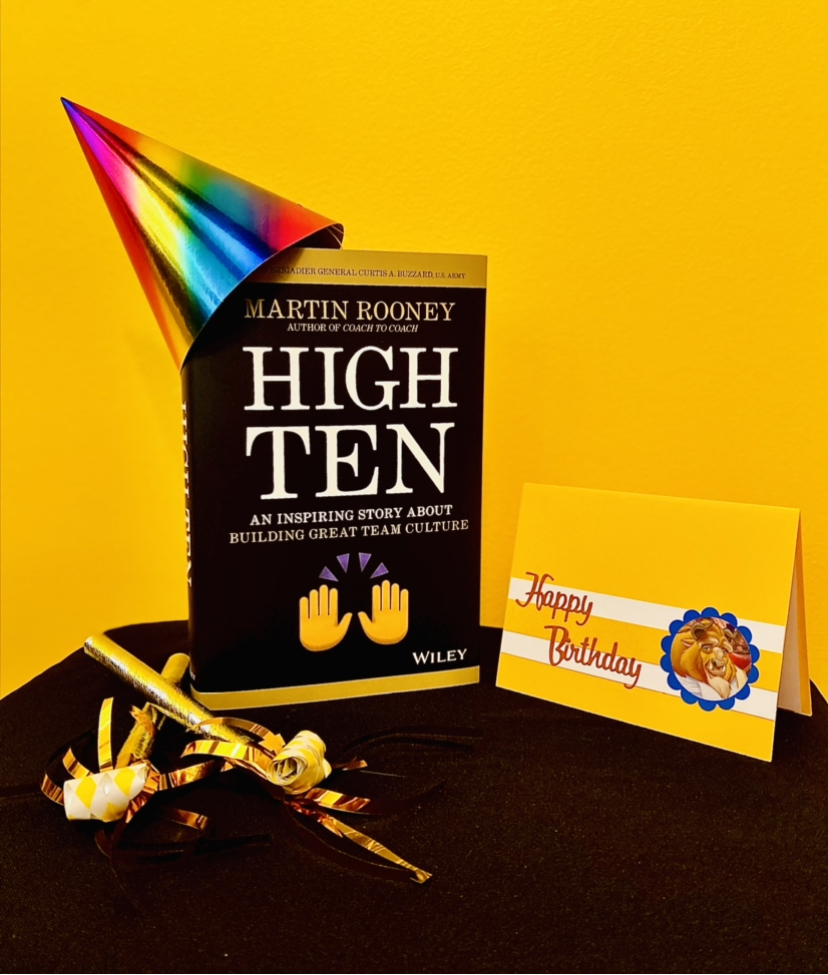 If you've ever worked on a big project, you've probably realized that waiting to be ready or hoping for inspiration is just wishful thinking.
After all, "Anticipation and Inspiration Have An Expiration!"
There comes a time when you just have to get started – and if you're a writer, that's the moment when you have to stop "wishing" and just sit down and start writing.
I'm excited to announce that after almost two years of work, my new book High Ten: An Inspiring Story About Building Great Team Culture officially released today!  The thousands of people who preordered will be getting their copy over the next few days and I'm so excited.  Although I'm proud of how the book looks and of the content inside, I'm more proud of the lesson the book taught me about the "3 P's" you will learn about below.
It took time to learn this lesson because I was seduced by a fantasy.
I was under the delusion I could write a book in a weekend.  Where did I get this crazy notion I could hammer out a book that fast?  That idea came from some legendary writing stories:
Sylvester Stallone witnessed a boxing match and wrote Rocky in three days.
Irish novelist John Boyne wrote The Boy In The Striped Pajamas in two and a half days.
Mary Shelley wrote Frankenstein at a horror writer's retreat over a weekend.
If they could do it, so could I, right?  So like them, I thought I would sit around, wait for some "inspiration," and then my own magical weekend would appear.  But this fantasy cost me nothing but time.  Instead of starting, this false belief had me procrastinating.  I just kept "getting ready to get ready" for a few days that had to feel "just right."  To kill time until the perfect Saturday and Sunday presented themselves, I spent almost a year doing storyboards, content development, interviews and character studies.  I kept reviewing my notes and even had them organized into the 27 chapters that now make up High Ten.
Looking back, I realize now I was ready to start writing the book much earlier than when I actually started.  For some reason I just kept wasting time waiting to put pen to paper – expecting the "perfect time" to happen.  Unfortunately, I found myself searching for the days "Someday," and "Tomorrow," which don't exist on the calendar no matter how hard you look.
Then I finally did something "magical" that transformed my fantasy into reality.
I sat myself down, I opened my computer and told myself to write the first sentence.  And when that sentence was completed, I told myself to write another.  I would love to tell you an amazing story how I wrote High Ten in a couple days of caffeine-fueled inspiration, but if I told you that, I'd be lying.
Writing High Ten taught me your greatest work of art takes more than a couple days.
After that first weekend of writing, I didn't even have the first chapter done!  I immediately recognized that writing High Ten was going to be more a marathon than a sprint.  But that didn't mean I was any less inspired to write.  Why?  Because I woke up every day inspired to write – because I had reached the most important place to do your greatest work.  
On my writing journey, I finally reached "The Intersection."
When I was writing High Ten, my purpose intersected with my passion and with something the world needs.  Unfortunately, so many people never reach this intersection.  And that's a shame because, reaching that intersection is under your control.  But you may often miss it because you either never clarify or commit to get started on what you are passionate about.
My advice:
 

Don't get good at something that doesn't inspire you!

Do you know anyone who does this?  I'm sure – people who have careers they don't love or keep working to improve on skills they're not excited about.  The pandemic was an opportunity to reflect on what really inspired me.  I already knew I loved fitness, sport and exercise, but I discovered something deeper.  My passion is building winning teams and culture.  Those are what I'm good at, and between my Training For Warriors organization and the teams with which I work, that's where I'm inspired to be my best.

And because I also love telling stories and realized the world needed a little culture "kick in the pants," I decided to write an inspirational story about team building and culture!  So High Ten isn't just a book about how to build a great team culture, it also represents the intersection of my passion, purpose and what people need.
Now what about you?
 

Have you found your intersection?

Writing High Ten gave me the roadmap to create my best work.  But now that I have explained it, you should have a guide to your "intersection" too.  To make it easier, think of this intersection as your 3 P's:  Passion, Purpose and People.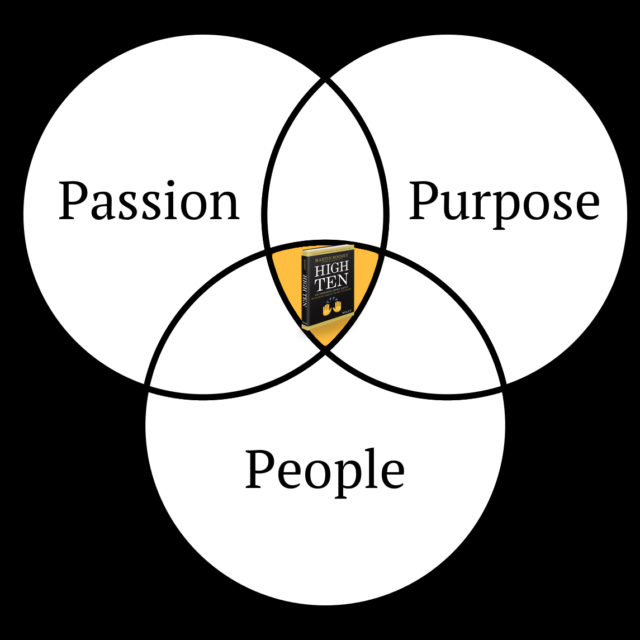 Answer the following questions and it will help you get closer to that intersection. When that happens, you'll have the opportunity to produce your greatest work.  Just remember that work isn't going to happen in a weekend – and actually, the answers to the questions may take more than that too!
5 Questions To Intersect With Greatness
1.
 

What is your Passion?

I've heard, "years wrinkle your skin, but a lack of passion wrinkles your soul."  To help you discover your passion, ask yourself what you are most interested in.  Make a list of the things that keeps you up late and gets you up early.  Is there something you would love to spend your life doing even if you weren't paid for it?  A combination of those answers will help your passion emerge.
2.
 

What is your life's Purpose?

One way to make sure you are living your life and not someone else's is to identify your purpose.  In order to make sure you are living "on purpose," ask yourself about the activities in which you feel you behave with the most authenticity.  Is there anything that you have felt "called" or "born" to do?  Are there activities where you feel most "in the zone?" Those answers will help you figure out what you should really be doing.
3.
 

What is something you do that People need?

My dad always advised me to, "find a need and fill a need." A great way to express your passion and purpose is in the service of others.  And the more people you can serve, the more greatness you can exhibit.  Now that you have a clearer idea of your passion and purpose, ask yourself how they can best be used to help solve a common problem people are experiencing.
4.
 

What is your intersection of the first three P's?

What you create at your intersection is all up to you.  In my case, I chose to write a book to Inspire and Educate (my purpose) about Team Building (my passion) to help build stronger Coaches and Cultures (what people need).  But you can choose anything you want.  You could volunteer in an area you are passionate about.  You could intern in a career which interests you.  You could take a class or pick up an instrument or language.  The possibilities are endless, but the good news is your greatest work will come from both your head and your heart.
5.
 

What is one small step you could take into that intersection right now?

If you've done the deep work and answered the first four questions, now the only thing stopping you is you.  And if you are going to let anything stop you, don't let it be the start!  Just like I did, make a commitment to action and take the first step.  I promise if you do, the greatness that will be produced by your authentic self won't be far behind.

If these questions have helped you realize you want to improve the people around you, a great place to start would be reading High Ten.  Since today is the LAST DAY for my SPECIAL BONUS OFFER worth over $500, don't miss out on this opportunity!

The Bonus Offer is a culture-building exercise I call Get One, Give Two.  How it works is when you buy three copies of High Ten (one for you and two for either staff, family or team members) I will send you 2 Bonus Coaching and Culture PDFs, 2 Bonus Deleted Chapters from the book and also a Bonus 80-minute video on Culture that cost over $500 to attend the event.

So, you get a great book for yourself and start working on your culture right away by giving a nice gift to two other people!

Just email me your receipt today and I will send those bonuses right back to you.

And if you'd just like to get the book for yourself, you can get it online right now wherever books are sold.

Throwing you a big High Ten,

Martin