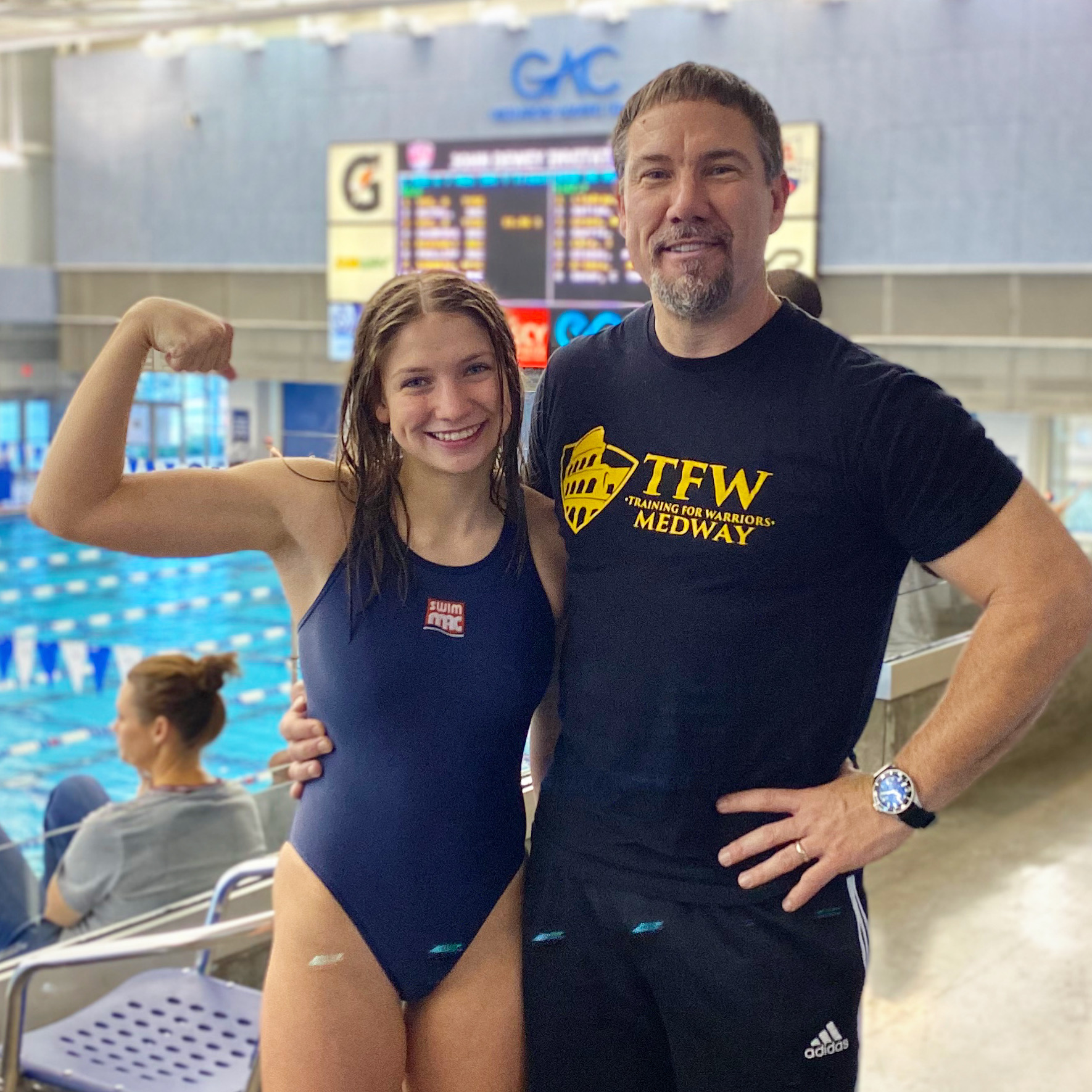 Coach,
This past year, I committed to myself and my family to do half the traveling I usually do per year.  After the last decade of 30-50 trips per year, the big part of this decision was to spend more time coaching my 4 daughters.   In addition to freeing up time to be with them, I was also able to focus on writing my book Coach to Coach.  Although the book is a fictional coaching parable, the story was inspired by events from my life.  And when you read the book, you will see the main character starts off with trouble taking care of the "little things."  Here is the true story from my life where I learned the coaching lessons to share in the book:
On the tri-weekly 30-minute drive back from swim practice with my second daughter, Kristina, I reflected on not only being there for the "little things" for your kids, but also how doing just one "little thing" can improve your relationships as both a parent and a coach.  Before I give you this "secret" coaching technique, I want to elaborate how the the last four years of swim meets and practices started.
During the Rio Olympics in August of 2016, my kids and I were glued to the television each evening to watch athletes from around the world attempt to make golden dreams come true.  Having once had an Olympic dream myself, I make it a point every four years to honor these athletes with my attention and celebrate the lesser known sports that finally get some exposure.  As a fan of all sports, I was inspired by Usain Bolt and Allyson Felix on the track, Simone Biles in gymnastics and the athletes of other less-promoted sports like wrestling, judo and weightlifting.   But each night, whether the venue was volleyball, rowing, cycling or fencing, my second daughter Kristina (who was not usually the biggest sporting fan in the house) was attracted to the swimming and diving.  Unlike herself, she kept talking about the swimming events and asking what I thought would happen that night in the pool. As we were on the couch watching Michael Phelps, Katie Ledecky and Katinka Hosszu winning medals, my then 10-year-old asked me a simple but impactful question, 
"Dad, do you think I could be good at swimming?"
It was one simple question that could have had a number of different answers. It would have been easier to immediately say something like, "No, I am not a great swimmer, so why would you be."  Or I could have taken the realistic route and said, "swimming is so much work and takes so much time to be good, why would you want to do that?" It would have been easier to brush her off, but I paused and reminded myself in addition to being a parent, I am also a coach.  And as I have learned in the years since that simple conversation on the couch, a coach should never take away the most important thing a person with a dream can have: HOPE.
Although I consider myself athletic, when I get in a pool, I swim like a rock.  Not that I can't swim, but as I got older and I guess more dense (my wife would agree on that one!) swimming really became a ton of work.  Add in the fact I gravitate to events that are shorter in nature and usually ground-based, I am not the guy who is going to go "swim 20 laps" for fun.  Regardless of my passion or lack thereof for the sport of swimming, I was faced with the question as my daughter waited anxiously for the answer.  
And now looking back on the four years since, I am so glad I had learned enough as a coach to always try to say the right thing at the right time.
So I looked down at that 10-year-old and said, "Yes, not only do I think you would be a great swimmer, but I know where we can get you some lessons!"  If you would have seen her smile, you would realized what I did in that moment. One of the best things you can do for your child (or someone you coach) is to let them know you BELIEVE in them.
A week later, she got in the pool for a "tryout" with a coach from Swim Mac, one of the top swimming programs in the US.  She was nervous and to be honest, so was I. As a parent, it is tough to have your kids evaluated, especially when you know they aren't completely prepared.  
At the tryout, she actually did well!  She was placed into the middle level of the program and that started our three-time-a-week commute to and from the pool for an hour of practice.
Let me be honest: watching swim practice is not the most exciting pastime.  They swim down, get out of the pool, wait for some coaching, and then swim back.  Wash, rinse, repeat (pun intended). As a parent, you sit in the stands and watch the laps (and the hour) tick by.  As a coach to many athletes, it is hard for me to sit back and just watch. I wanted to be able to offer more to foster that hope and belief I had started.  But not knowing much about swimming, I thought it was out of my coaching realm. That is until I realized I had the best coaching tool to increase HOPE and BELIEF with me in those stands every day.
You see, each time my daughter would get out of the pool, she would hop out and immediately look up at me.  At first I thought she did this just to make sure I was watching. My eye contact showed that I was, but her responses showed me just being present wasn't enough.  She, like most people, was looking for a little more approval or appreciation. So, as practices went on, when she would hop out after a strong lap and look up, I would give her the "THUMBS UP" sign.  Each time her smile was just like the one when I first answered her question.
The "THUMBS UP" signal has now become our routine.  After a good lap, with that little raise of the thumb, she gets a big boost in confidence.  It would be easier to look at my phone or read, but that isn't what I am there for as a dad.  Now I am spending less time on planes, but am definitely spending more time in the car getting my kids to practices and lessons.  I wouldn't trade those conversations in the car or that time watching from the stands.  
Maybe you aren't a parent yet, or maybe you don't think of yourself as a coach. I just want you to know everyone is a coach to someone else in some way.  If you work with others, you can be their coach. If you have family members or are part of a team, you can coach them up too. Now that you know you are a coach, here are three simple lessons you should have learned from my story how to do it: 
3 Simple Coaching Lessons:
One of the most important things to instill in a person with a dream: HOPE
One of the most important things to give a person with a dream: BELIEF
One of the most important things to support a person with a dream: THUMBS UP
Become known as someone that gives people HOPE and BELIEVES in others and you will be the most popular coach you know.  And how do I know this? Because I go to see one of the top swim coaches in American history live it!
Only a few months into my daughter's training, the head of the program, David Marsh, who is one of the most decorated NCAA and Olympic swim coaches in the US, was walking into the swim center as we were walking out.  My daughter pointed him out and said to me he was a famous coach. Overhearing this, Coach Marsh told my daughter to stay right there as he went back out to his car. A minute later he returned with a Tokyo 2020 Olympic swim cap and as he gave it to her, he said keep working because he saw potential in her.  She never forgot that moment and neither did I. That is why when I was tasked to see what top coaches thought of my new book Coach to Coach, he was one of the first people to receive a copy.  
And when it gave it a shining testimonial, it was the second time he had given something to my family that I will never forget.
A coach has the power to change how a person thinks in an instant.  And those thoughts can lead to actions that can change a person's destiny.  And what is some of the magic behind that power? HOPE and BELIEF.
My advice?  I HOPE you start today with a little "THUMBS UP" sign for someone you think might need it.  And trust me on this one, I BELIEVE everyone does.
Yours in Strength
Martin