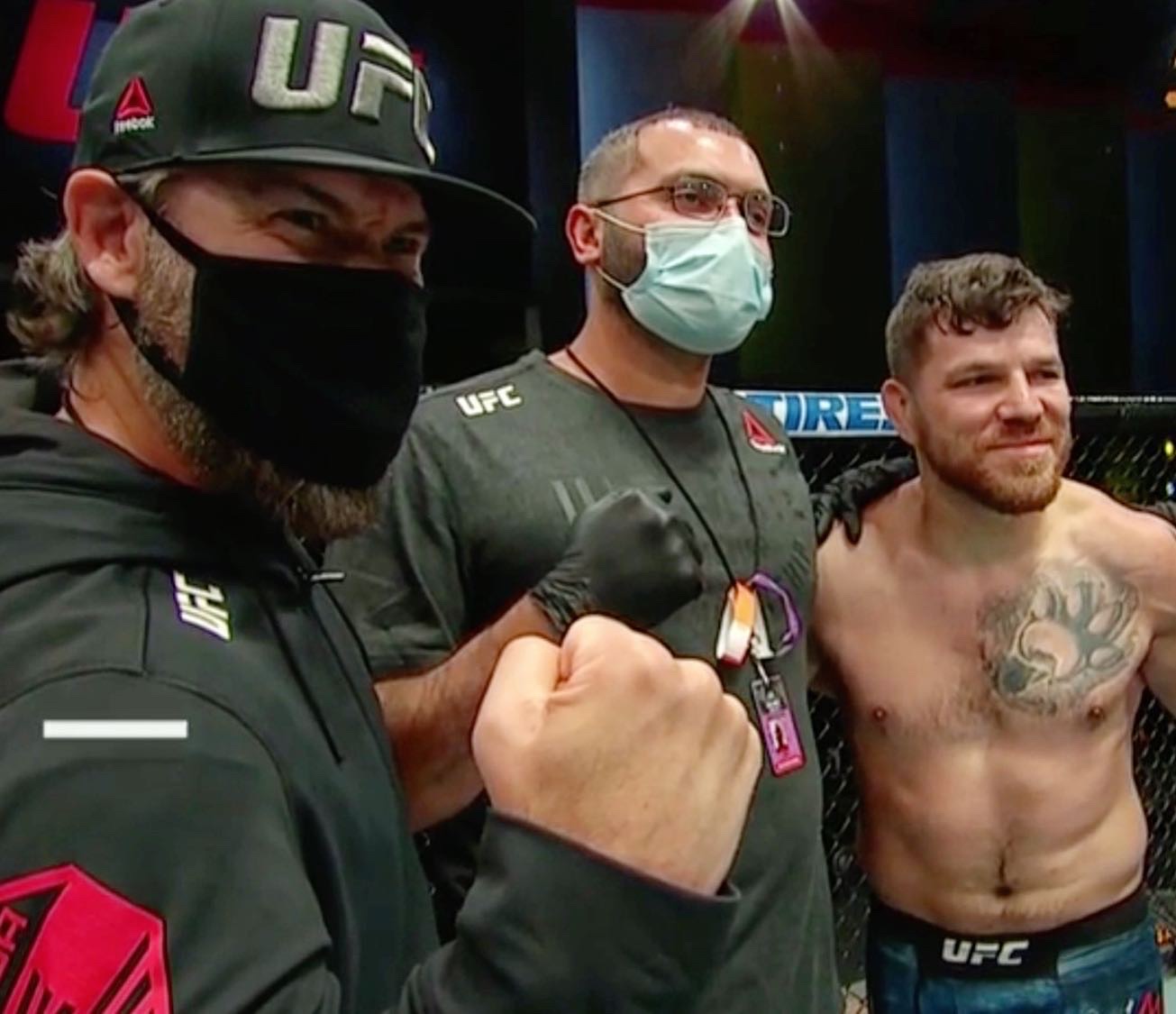 If you are like me, after over 100 days of quarantine, you may have started getting used to staying at home.
After over 20 weeks of rarely leaving my house, I was getting comfortable in my new homebound routine.
Because I was getting cozy staying in one place, you can imagine I was both hesitant and resistant when I was asked to travel across the country to help a friend in need.
Now looking back, if I hadn't gone, I would never have learned the coaching lessons how to have a Championship Performance.  And if I stayed in, I also couldn't share those 10 important lessons with you.
So who was this friend that got me to cross the country for Las Vegas?
His name is Jim Miller and if you don't know anything about him, you should.  He is one of the most decorated UFC fighters ever.  This past weekend he tied the all-time record for the most UFC fights ever (35) and with his victory he also moved into 3rd all-time for most wins in UFC history. And that masterful victory also earned him his 13th award-of-the-night honor which is one of the highest totals ever too.
And can you believe I almost didn't go to help?
Jim isn't "some athlete" that I used to coach.  Jim and I have been training together for 15 years and I consider him more of a brother and family member than a training partner.  When he got short notice for this fight and called to see if I could help him all week before the fight, I was worried my wife wasn't going to go for it.  But because Jim has been around our family for so long, my wife said I had to do it!  Due to getting used to staying home, unless I was convinced by my wife to go, I'm not sure if I would have accepted this coaching challenge.
I was nervous about my first trip back on a plane, but everyone in masks and sanitizing everything made me feel a little better. Once I landed in Vegas, I saw the UFC was going above and beyond to make sure to keep everyone safe and not spread the virus. From the airport, I had my own private driver and was driven to a hotel that had been completely taken over by the UFC.  Before I could even enter, I had my temperature checked and my first of several Corona tests of the week (not fun by the way).  Once I was cleared, I was able to room with Jim and as long as none of us tested positive throughout the week, he would be cleared to fight.  We stayed on lockdown just eating and training in the hotel for the days before the fight.
As you can imagine, this was a unique fight week experience. During final preparations for the fight (which included Jim cutting 15 pounds), we had plenty of time to talk.  In fact, aside from doctors and daily temperature checks, we didn't really talk to anyone else. One night we had a conversation about who we thought were the greatest fighters.  There was an interesting thing I noticed about each one of the fighters we both listed: They All Had Losses!  Now this may not sound profound, but it helped me to remind Jim of an important concept:
It is not the best fighter that always wins. The fighter that always wins is the one that fights the best when it counts the most!
And that breakthrough let me know my my job as a coach that week.  I realized what I was there for: to keep Jim relaxed, calm and focused to be able to perform at his best.  To carry out this job description I employed the following Success Formula you can use to put in a Championship Performance in anything you do:
CP = p – i
A coach's ultimate goal is to help someone get their Championship Performance (CP) to match their potential (p). And how do you get someone or yourself closer to doing this?  According to the formula above, you just have to eliminate or reduce the interference (i) that someone is experiencing.
So, in order to help Jim perform at his maximal potential, my job was to figure out ways to get rid of interference like unnecessary thoughts or stresses while also removing obstacles and barriers that could hold him back.  After he submitted his opponent in under 3 minutes without even allowing him to ever throw a punch or kick, I realized he achieved a championship performance that matched his potential.
On the long trip home the next morning after the fight, I detailed out the following 10-Step plan how we did it.  If you want to reduce the interference holding someone back from their greatest performances, these 10 lessons that are guaranteed to make you a better coach.
For the following 10 steps, I suggest you get out paper and pen and rate yourself how you are doing.  Give yourself a score from 1-10 depending on how well you perform each step and then add them up to see how well you score against the possible total of 100.
10 Coaching Steps To Remove "Interference" 
1.  Have A Plan 
In order to reach a goal, you need a plan in place to get there.  If you want to help someone lose weight, make more money, have better relationships or win a fight, make sure you have a plan.  Any thing else is just "guessing."
2.  Get The Tools
Once you have your plan, make sure you have all the tools necessary to execute that plan.  In Jim's case, there were bags of training gear, specific equipment, and food needed for the week.  Whatever your plan calls for, make sure you have what you need to perform.
3.  Make It Safe 
Safety is one of our greatest needs.  Without feeling safe, it is difficult to think of much else.  Be sure to create a safe and comfortable environment for the person you are trying to help.  Safety removes interference and helps greatness emerge.
4.  Care About Someone
One of the best things you can do for someone is care about them.  Be "there" and be present and show them you are on their side.  People always do better on a journey when they know they are not alone.
5.  Coach The Individual
The way you coach one person may not work for another.  Meet them where they are and find what works best for them.  When you are talking their "language" that is the best way to avoid interfering miscommunication.
6.  No Stones Unturned
To have the big performance happen, you have to do the "little things."  Be thorough as a coach so your people don't have to worry about the details.  A tiny pebble in the shoe you overlooked can stop the whole race.
7.  Ask Helpful Questions
A coach should be as helpful as possible.  The best way to know is to ask a person what, where and when they need help.  Don't ask the questions and you may not get the answers how to help make a championship performance happen.
8.  Measure To Manage 
During the week, we weighed Jim every few hours for 5 days.  Although it may sound excessive, the measures were the only way to know how to manage the weight cut.  The same principle holds true for your money, relationships and goals.  Taking stock of where you currently are will tell you what you need to do to get where you want to go.
9.  Open To Change
The masks, Corona-virus tests and competing in front of no fans was all new.  It was all change.  But instead of resisting change, we embraced it.  This lead to less pressure and keep Jim calm.  There will be new ways to do things on your journey.  Be an agent of change and you will get there faster and better.
10.  Celebrate Their Successes    
When Jim won, I let out a big yell in the quiet arena.  This yell wasn't because I was excited about me; it was because I was excited for him.  Make sure when they reach a moment of greatness, you are pointing your enthusiasm in the right direction.
You may have noticed each lesson seems like common sense, but if you didn't score perfect tens, you may be reminded common sense isn't always so common!  These lessons reminded me I always used the basics to help my athletes be their best.
Want to get even closer to reaching your potential as a coach and receive even more great ideas about coaching?
Check out my new book Coach to Coach.  Right now, it is only 12 dollars on Amazon for a limited time.  At almost 50% off, it is a great time to get one for you and one for a friend you coach!  There is now an audio and Kindle version too.
Get Coach to Coach for only $12.39 at Amazon here!
When Jim got his hand raised and I videoed from behind to capture the moment and cheer, I knew I was a 10 on number 10.  When you are a coach who goes 10 for all 10 and keep people feeling safe by caring and helping, you build the most important coaching necessity if you want to succeed: Trust.  When you have trust, a team can do anything.
And the world needs more trust right now.
So, as always, the world needs great coaches.
Yours In Strength,
Martin
P.S.  Maybe one helpful thing to change is your reading habits.  Have you read a book in a while?  Are you intimidated by reading? Well over the last few weeks I have had dozens of people tell me Coach to Coach was the first book they have read in a long time…and loved it!
Coach to Coach is an easy read with powerful messages you need right now.
GET YOUR COPY OF COACH TO COACH HERE